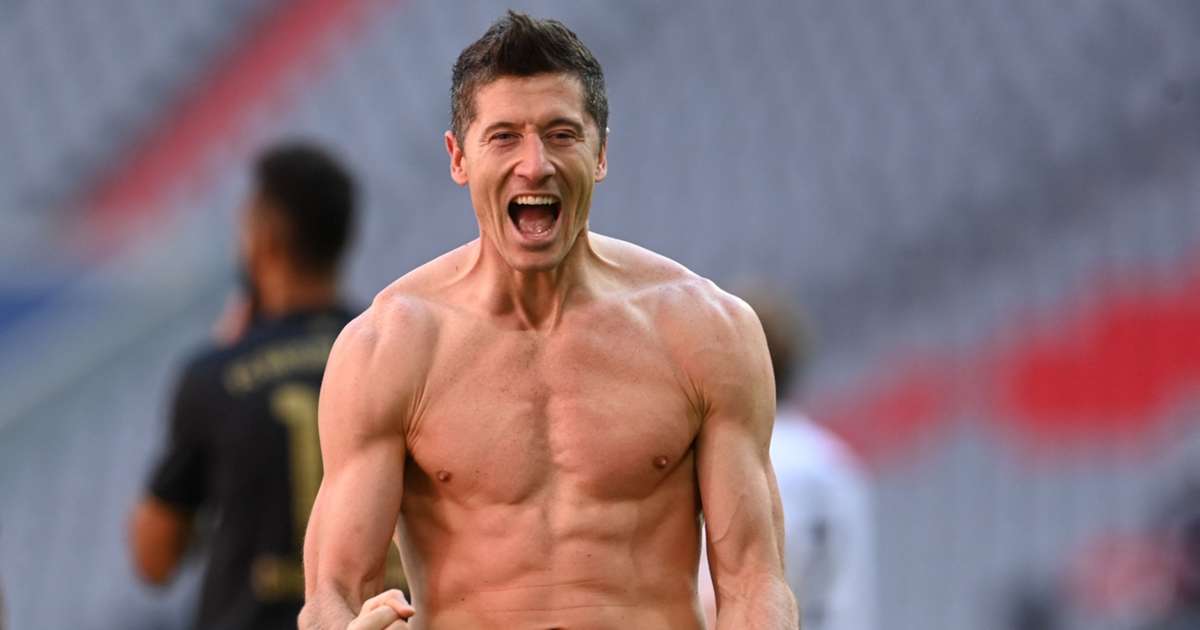 Robert Lewandowski broke Gerd Muller's long-standing record for goals scored in a single Bundesliga season with a last-gasp effort as Bayern Munich routed Augsburg 5-2 on a day of fond farewells.
The prolific Pole could only watch on as an own goal plus efforts from Serge Gnabry, Joshua Kimmich and Kingsley Coman had the champions flying at half-time of the season finale at the Allianz Arena.
But, after consolations from Andre Hahn and Florian Niederlechner, Lewandowski followed in when Rafal Gikiewicz spilled Leroy Sane's effort to make it 41 top-flight goals for the season with the last kick of the game.
It was a dramatic ending to an emotional outing, which was the last for head coach Hansi Flick and modern-day Bayern greats David Alaba, Jerome Boateng and Javi Martinez.
Bayern led when Jeffrey Gouweleeuw inadvertently turned in Gnabry's drilled cross.

Gnabry then headed into an unguarded goal after Coman had struck the post and Gikiewicz had twice denied Bayern all in one breathless move.

Manuel Neuer maintained Bayern's advantage by parrying away Daniel Caligiuri's penalty, awarded when Benjamin Pavard clipped the heels of Niederlechner.

Kimmich's drilled 30-yard effort into the top-right corner was in stark contrast to a desperate Lewandowski, who missed three chances either side of that thunderbolt.

Coman's low drive into the bottom-left corner made it 4-0 before the break and Lewandowski was foiled again shortly before the hour by a last-gasp challenge from Gouweleeuw.

Augsburg replied first through Hahn's header from Laszlo Benes' whipped free-kick, with scorer turning provider for Niederlechner to coolly slot past Neuer.
Just when it looked like Lewandowski would agonisingly miss out, he reacted quickest when Gikiewicz could only parry Sane's effort, rounded the goalkeeper and slotted into an empty goal before whipping off his shirt in sheer jubilation.
What does it mean? Over to you, Julian…
Flick all but confirmed football's worst-kept secret that he is likely to become Germany's new boss after the rescheduled Euro 2020 championship.
In his place will be one of the most sought-after young coaches in Julian Nagelsmann. On this evidence, the two seem a perfect match and the rest of the competition faces an almighty challenge to deny Bayern – who became just the third Bundesliga team in history to score in every matchday – a 10th straight title next term.
Just in the nick of time for Lewi!
Prior to the game, Augsburg coach Markus Weinzierl – who worked with the legendary Muller when he was assistant coach in Bayern's reserves – vowed to man-mark Lewandowski to protect his idol's record.
In truth, the visitors did not do a particularly good job of that, with Lewandowski missing several opportunities.
He had 10 shots, six of which were on target, and three key passes but it was his last touch that proved telling for a player at the peak of his powers.
Farewell to Flick, Alaba, Boateng and Martinez
It has been a memorable 18 months for head coach Flick, who led Bayern to seven major honours including a famous treble last term.
But it was also a day to say goodbye to a trio of legends in Alaba, Boateng and Martinez, all of whom have been so influential in Bayern's decade of dominance.
Between the three, there are 675 Bundesliga appearances and a mind-boggling 73 major trophies. This win was a classy way to say a fond farewell.
What's next?
It's another season wrap on the Bundesliga, with several Bayern stars now preparing for international ventures. Augsburg are safely back in the top flight for next term too.
Robert Lewandowski alivunja rekodi ya muda mrefu ya Gerd Muller ya mabao yaliyofungwa katika msimu mmoja wa Bundesliga na juhudi za mwisho wakati Bayern Munich ilishinda Augsburg 5-2 siku ya kuaga.

Pole hodari angeangalia tu kama lengo lao na juhudi kutoka kwa Serge Gnabry, Joshua Kimmich na Kingsley Coman walikuwa na mabingwa wakiruka wakati wa nusu ya mwisho wa msimu huko Allianz Arena.

Lakini, baada ya kujumuishwa na Andre Hahn na Florian Niederlechner, Lewandowski alifuata wakati Rafal Gikiewicz alipomwaga juhudi za Leroy Sane kuifanya iwe mabao 41 ya kukimbia kwa msimu huu na teke la mwisho la mchezo.

Ilikuwa mwisho mzuri wa safari ya kihemko, ambayo ilikuwa ya mwisho kwa kocha mkuu Hansi Flick na wakubwa wa Bayern wa siku hizi David Alaba, Jerome Boateng na Javi Martinez.

Bayern iliongoza wakati Jeffrey Gouweleeuw bila kukusudia aligeuza msalaba wa Gnabry.

Gnabry kisha aliingia kwenye lango ambalo halikulindwa baada ya Coman kupiga post na Gikiewicz alikuwa amewanyima Bayern mara mbili kwa mwendo mmoja wa kupumua.

Manuel Neuer aliendeleza faida ya Bayern kwa kupangua penati ya Daniel Caligiuri, iliyotolewa wakati Benjamin Pavard alipokata visigino vya Niederlechner.

Jaribio la Kimmich la yadi 30 kwenye kona ya juu kulia lilikuwa kinyume kabisa na Lewandowski aliyekata tamaa, ambaye alikosa nafasi tatu kila upande wa radi hiyo.

Gari la chini la Coman kwenye kona ya kushoto kushoto ilifanya 4-0 kabla ya mapumziko na Lewandowski alifutwa tena muda mfupi kabla ya saa na changamoto ya mwisho ya Gouweleeuw.

Augsburg ilijibu kwanza kupitia kichwa cha Hahn kutoka kwa mpira wa adhabu uliopigwa na Laszlo Benes, na mfungaji akigeuza mtoa huduma kwa Niederlechner kumpiga chenga Neuer.

Wakati tu ilionekana kama Lewandowski angemkosa kwa uchungu, alijibu haraka zaidi wakati Gikiewicz angeweza tu kujaribu juhudi za Sane, akamzunguka mlinda mlango huyo na kujipanga katika bao tupu kabla ya kuchapa shati lake kwa furaha kubwa.

Inamaanisha nini? Kwako, Julian…

Flick yote lakini alithibitisha siri iliyohifadhiwa kabisa ya mpira wa miguu kwamba ana uwezekano wa kuwa bosi mpya wa Ujerumani baada ya ubingwa wa Euro 2020 uliopangwa tena.

Katika nafasi yake atakuwa mmoja wa makocha wachanga wanaotafutwa sana katika Julian Nagelsmann. Kwa ushahidi huu, wawili hao wanaonekana kuwa mechi nzuri na mashindano yote yanakabiliwa na changamoto kubwa ya kuikana Bayern - ambaye alikua timu ya tatu tu ya Bundesliga katika historia kupata alama katika kila siku ya mechi - jina la 10 mfululizo moja kwa moja.

Wakati tu wa wakati kwa Lewi!

Kabla ya mchezo, Kocha wa Augsburg Markus Weinzierl - ambaye alifanya kazi na hadithi maarufu Muller wakati alikuwa kocha msaidizi katika akiba za Bayern - aliapa kumweka alama Lewandowski kulinda rekodi ya sanamu yake.

Kwa kweli, wageni hawakufanya kazi nzuri sana, na Lewandowski alipoteza fursa kadhaa.

Alikuwa na mikwaju 10, sita kati ya hizo zilikuwa za kulenga, na pasi tatu muhimu lakini ilikuwa mguso wake wa mwisho ambao ulithibitisha kumwambia mchezaji kwenye kilele cha nguvu zake.

Kwaheri Flick, Alaba, Boateng na Martinez

Imekuwa ni miezi 18 isiyokumbukwa kwa kocha mkuu Flick, ambaye aliongoza Bayern kupata tuzo saba kuu ikiwa ni pamoja na treble maarufu kwa muhula uliopita.

Lakini pia ilikuwa siku ya kuaga hadithi tatu huko Alaba, Boateng na Martinez, ambao wote wamekuwa na ushawishi mkubwa katika miaka kumi ya utawala wa Bayern.

Kati ya hizo tatu, kuna maonyesho 675 ya Bundesliga na nyara kubwa 73 za kushangaza. Ushindi huu ulikuwa njia ya hali ya juu ya kusema kwaheri.

Nini kinafuata?

Ni msimu mwingine kwenye Bundesliga, na nyota kadhaa wa Bayern sasa wanajiandaa kwa ubia wa kimataifa. Augsburg wamerudi salama katika ndege ya juu kwa muhula ujao pia.