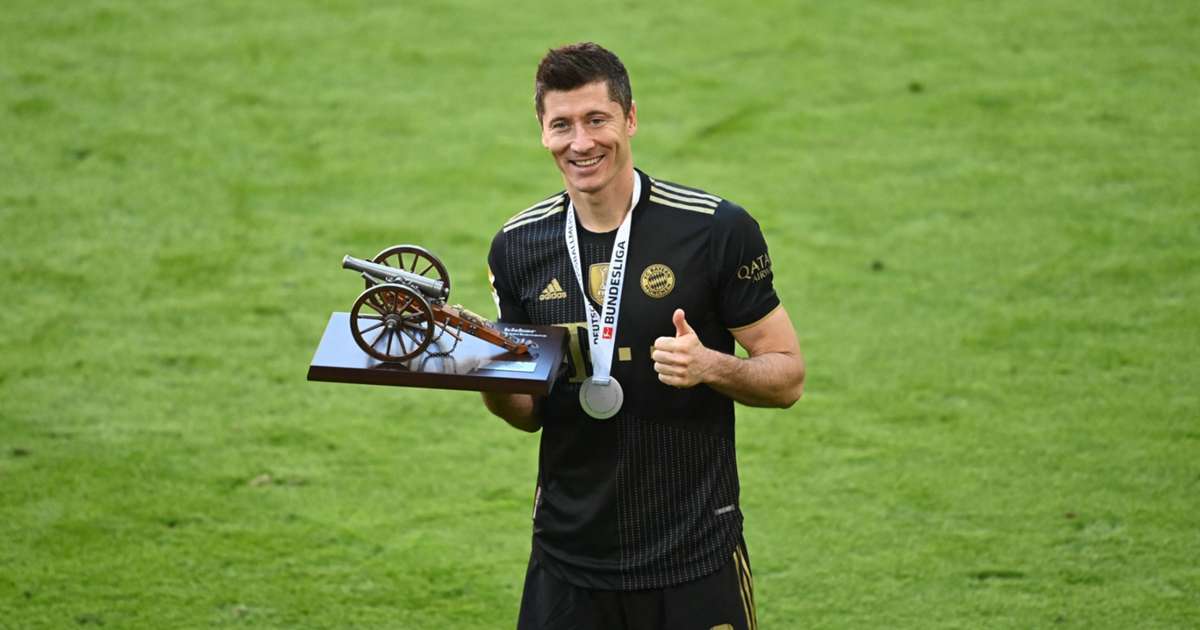 Robert Lewandowski was almost left lost for words after breaking Gerd Muller's long-standing Bundesliga record for goals in a single season and says it is too soon to judge where the achievement ranks in his lengthy list of accomplishments.
Prolific Pole Lewandowski had equalled Muller's previous benchmark of 40 set back in the 1971-72 season with a penalty in a 2-2 draw against Freiburg last week.
In Saturday's season finale against Augsburg, it looked as though Lewandowski was going to fall frustratingly short of outright history having been thwarted on several occasions by visiting goalkeeper Rafal Gikiewicz.
However, there was one last dramatic twist when Gikiewicz failed to hold a Leroy Sane strike, and Lewandowski pounced to round the keeper and slot home his 41st league goal of the campaign to seal a 5-2 win for the champions.
In scenes of pure jubilation, Lewandowski whipped off his shirt and then had a warm embrace with departing head coach Hansi Flick.
"I have no words. I tried to score for 90 minutes, I tried everything – and it fell in the 90th minute. I am very, very happy," Lewandowski told Sky Germany.
"I saw that Leroy had shot, then I just speculated. I wanted to score earlier, of course, but I knew that the situation would come at some point. I also thank my team-mates for trying everything."
Asked if the record and surpassing a legend like Muller was the greatest achievement in his career, Lewandowski replied: "It was a special moment, it was historic.
"But I can't even classify it so soon after the game."
In total, Lewandowski had 10 shots, six of which were on target, but it was the crucial moment with the last kick of the game that proved crucial.
"I wasn't angry, but I was disappointed. I asked myself why the goal didn't work out today," he said.
"Thanks again to my team, they are also on my record."
Robert Lewandowski alikuwa karibu kushoto amepotea kwa maneno baada ya kuvunja rekodi ya muda mrefu ya Bundesliga ya Gerd Muller ya mabao katika msimu mmoja na anasema ni mapema sana kuhukumu ambapo mafanikio yapo katika orodha yake ndefu ya mafanikio.

Prolific Pole Lewandowski alikuwa sawa na alama ya awali ya Muller ya 40 iliyowekwa nyuma msimu wa 1971-72 na adhabu katika sare ya 2-2 dhidi ya Freiburg wiki iliyopita.

Katika fainali ya msimu wa Jumamosi dhidi ya Augsburg, ilionekana kana kwamba Lewandowski angekosa kufadhaika kabisa kwa historia ya wazi kuwa imezuiliwa mara kadhaa na kumtembelea mlinda mlango Rafal Gikiewicz.

Walakini, kulikuwa na hitilafu moja ya mwisho wakati Gikiewicz alishindwa kushikilia mgomo wa Leroy Sane, na Lewandowski alilalamika kumzunguka mlinda lango na kupachika bao lake la 41 la ligi ya kampeni ya kushinda 5-2 kwa mabingwa.

Katika mandhari ya shangwe safi, Lewandowski alimchapa shati lake kisha akakumbatiana kwa joto na kocha mkuu anayeondoka Hansi Flick.

"Sina maneno. Nilijaribu kufunga kwa dakika 90, nilijaribu kila kitu - na ilianguka katika dakika ya 90. Nina furaha sana," Lewandowski aliiambia Sky Germany.

"Niliona kwamba Leroy alikuwa amepiga risasi, kisha nikadiria tu. Nilitaka kupata bao mapema, kwa kweli, lakini nilijua kuwa hali hiyo ingekuja wakati fulani. Pia nawashukuru wenzangu kwa kujaribu kila kitu."

Alipoulizwa ikiwa rekodi na kupita hadithi kama Muller ilikuwa mafanikio makubwa katika kazi yake, Lewandowski alijibu: "Ilikuwa wakati maalum, ilikuwa ya kihistoria.

"Lakini hata siwezi kuainisha mapema hivi baada ya mchezo."

Kwa jumla, Lewandowski alikuwa na mikwaju 10, sita kati ya hizo zilikuwa kwenye shabaha, lakini ilikuwa wakati muhimu sana kwa teke la mwisho la mchezo ambalo lilionekana kuwa muhimu.

"Sikuwa na hasira, lakini nilivunjika moyo. Nilijiuliza ni kwanini lengo halikufanikiwa leo," alisema.

"Asante tena kwa timu yangu, pia wako kwenye rekodi yangu."